Mating Ecology of a Lek-breeding Antelope
Dr. Vivek Hari Sridhar,  Dr. Hemal Naik and Dr. Akanksha Rathore have been awarded the CRG-CASCB joint grant by the Department for the Ecology of Animal Societies at the University of Konstanz / Max Planck Institute of Animal Behavior and the Centre for the Advanced Study of Collective Behaviour, University of Konstanz. The team will study the spatial and social drivers of mate-choice in antelope leks.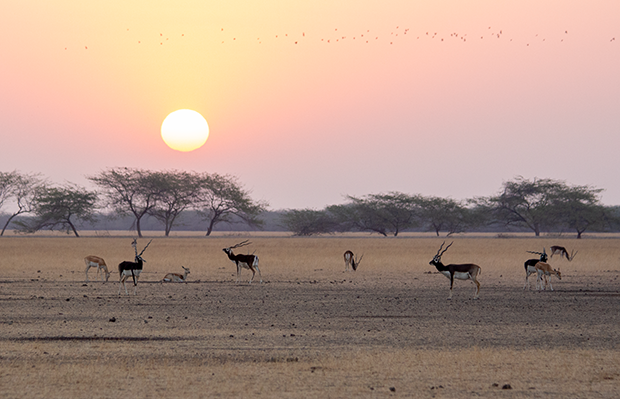 From a Darwinian viewpoint, life is all about maximising survival and reproductive success. For most animals, this means finding and attracting suitable mates. A mating system describes how males and females pair when choosing a mate. Sridhar, Naik and Rathore are studying mate-choice in a mating system that occurs in <2% of mammalian species—lekking. A lek is an aggregation of displaying males that are each seeking to attract mates. Females visit these leks to avail the apparently low-cost opportunity of sampling mates.
Despite decades of research dedicated to studying mate-choice on leks, until recently, it has been impossible to obtain fine-scale behavioural data on movement and interactions of every individual on the lek. Sridhar, Naik and Rathore will leverage recent advances in aerial videography and state-of-the-art deep learning algorithms to conduct the first ever study of mate-choice in a lek-breeding system that incorporates fine-scale social interactions in a spatially explicit manner.  
The Team
Dr. Vivek Hari Sridhar is a behavioural biologist interested in the principles of decision-making that are independent of taxa, context and the scale of biological organisation. During his PhD, Vivek decoded the algorithm that animals use when deciding where to go among many options. He will now extend these ideas to study decision-making in what is arguably the most evolutionarily relevant context—mate-choice.
Dr. Hemal Naik is a computer vision expert with 12+ years of experience in technology development for various domains—healthcare, industrial manufacturing and animal behaviour. During his PhD, Hemal developed a large indoor facility with a unique 3D tracking system for conducting behavioural experiments and initiated numerous outreach events at the Max Planck Institute of Animal Behavior (MPI-AB). Here, he will develop software packages to extract data from videos and leverage his network to convey our results to a broader audience.
Dr. Akanksha Rathore is a computer scientist turned field biologist interested in emergent behaviours in animal groups. She employs computer engineering concepts and state-of-the-art techniques to answer the ecological questions. During her PhD, Akanksha quantified inter-individual interactions to study vigilance and leadership during collective escapes in blackbuck herds. Here, she will employ these data collection and analysis skills to study mate-choice in the same species.   
The Collaboration
The primary motivation of pursuing this project comes from a common commitment shared by the team towards developing research projects in their home country, India. The idea of the collaboration started in 2019, when all three team members were at the final stages of their PhDs. Akanksha was on a research visit in Konstanz where she presented her PhD research titled "Collective escape dynamics of blackbuck herds in the wild". Here, she introduced the blackbuck system, and as a teaser, presented aerial footage of their lek-breeding behaviour. After the talk, discussions with Vivek about potential future research directions excited both of them and they decided to apply to the CRG-CASCB joint grant as it gave them the opportunity to combine their expertise and extend their research.
Upon further discussions, both realised that answering these questions required significant expertise in the field of deep learning and computer vision. They approached Hemal Naik, a colleague at MPI-AB who developed computer vision algorithms to study behaviour. The prospect of advancing field-based research in India was immediately appealing to Hemal as he was actively involved in building scientific collaborations in India with Dr. Martin Wikelski since 2017. Together, the three bring together a diverse set of expertise necessary to address interesting biological questions in a quantitative and rigorous way.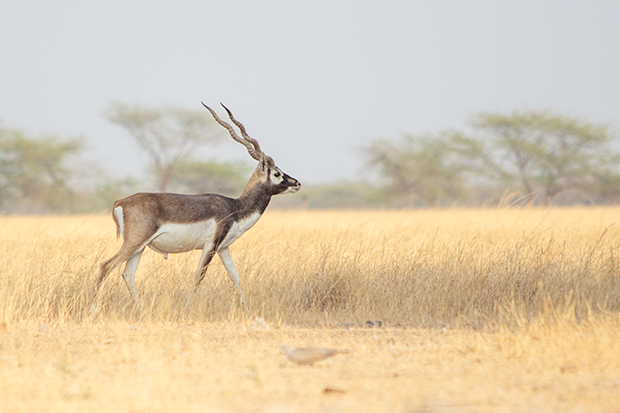 The Project
Across the animal kingdom, diverse mating systems have evolved—one of which is lekking: a visually spectacular and rare phenomenon in which males display on closely clustered territories and females visit these territories for the sole purpose of mating. On leks, interactions between individuals—male-male competition and mate-choice copying in females—result in a few males mating with almost all of the females. How do females choose their mates? Why are certain males preferred over others? What strategies do these individuals adopt during courtship? Sridhar, Naik and Rathore will leverage cutting-edge technological advances in aerial videography and computer vision to answer these questions and study individual decision-making and mate-choice among blackbucks (Antilope cervicapra) on leks. They will quantify the spatial and temporal dynamics of interactions and unravel structural and social drivers of mating success in this unique and underexplored mating system. The team has planned to take an interdisciplinary open-science approach, where they will build conservation-research tools that are useful and accessible to other scientists as well. Along-side the science, they have also established collaborations with art institutions,  forest officials and local universities to address on-field capacity building and outreach.
Fun Fact
The name 'MELA' is not just an abbreviation of our project title. In hindi, the word refers to a gathering of people at a fair or a public event organised to celebrate a special occasion. The local communities around Velavadar National Park (our study site) call to the blackbuck lek a 'mela,' or a gathering of the antelopes.